Santa Cruz is a charming and vibrant county known for its beautiful beaches, outdoor activities, and relaxed atmosphere. Santa Cruz offers an excellent quality of life for families, with a variety of neighborhoods catering to different preferences and lifestyles. In this blog post, we'll explore just some of the many great family neighborhoods in Santa Cruz County.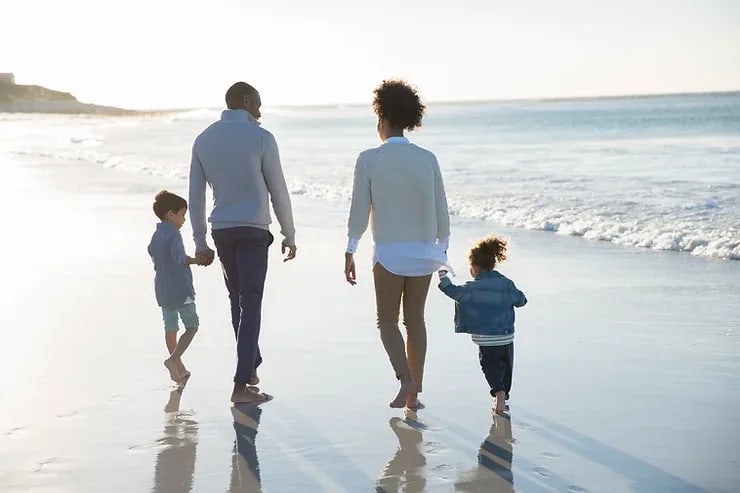 1.

Westlake (Upper West Side)
Located on the west side of Santa Cruz, near UCSC, Westlake is a popular neighborhood for families due to its excellent schools, quiet streets, and proximity to parks and outdoor activities. Westlake Elementary School is highly regarded, making this area particularly attractive to families with young children. The nearby Pogonip Open Space Preserve and University Terrace Park offer great opportunities for hiking, biking, and picnics.
2. Seabright (Mid Town)
Seabright is a charming neighborhood situated between the Santa Cruz Harbor and the San Lorenzo River. This area is known for its picturesque streets, quaint beach cottages, and easy access to Seabright Beach and the Santa Cruz Beach Boardwalk. Seabright offers a strong sense of community, with local shops, restaurants, and parks that make it a welcoming and family-friendly environment. Seabright is also great for it's easy access to amenities on both the East and West sides of Santa Cruz.
3. Live Oak + Pleasure Point (East Side)
Live Oak, located on the east side of Santa Cruz, is a diverse and family-oriented neighborhood. The area boasts a mix of housing options, from single-family homes to condos and townhouses. Live Oak is home to several parks, including Brommer Street Park and Moran Lake Park, providing ample opportunities for outdoor recreation. The nearby Pleasure Point area offers surfing and beach access, adding to the appeal of this neighborhood.
4. Scotts Valley
Just a short drive north of Santa Cruz City is Scotts Valley, a suburban community with a small-town feel. Known for its excellent schools, including the highly-rated Scotts Valley High School, this neighborhood is a top choice for families with school-aged children and presents as an ideal commute location due to its proximity to Highway 17 and San Jose/Santa Clara. Scotts Valley offers a variety of housing options, from single-family homes to townhouses and apartments. The community is surrounded by beautiful redwood forests, offering numerous opportunities for hiking, biking, and outdoor exploration at parks such as Henry Cowell Redwoods State Park and Glenwood Preserve.
5. Capitola
Capitola is a picturesque coastal town located just a few miles south of Santa Cruz. With its charming village atmosphere, excellent schools, and beautiful beaches, Capitola is an ideal neighborhood for families seeking a relaxed, beachside lifestyle. Families can enjoy strolling through Capitola Village, visiting the Capitola Beach, or participating in community events like the Capitola Art & Wine Festival. The nearby New Brighton State Beach and Seacliff State Beach provide additional opportunities for family outings and beach activities.
6. Aptos
Aptos, situated just south of Capitola, is a family-friendly community known for its excellent schools, beautiful beaches, and outdoor recreation opportunities. The neighborhood offers a variety of housing options, including single-family homes, townhouses, and condos. Families can enjoy visiting the Forest of Nisene Marks State Park for hiking and picnicking or spending the day at the family-friendly Seacliff State Beach. The nearby Cabrillo College also hosts cultural and educational events that appeal to families with children of all ages.
7. Soquel
Soquel is a charming village located just a short drive from Santa Cruz and Capitola. This quaint community offers a slower-paced lifestyle, with tree-lined streets, antique shops, and a strong sense of community. Families will appreciate the highly-rated schools in the area, such as Soquel High School and Soquel Elementary School. Soquel is also home to several parks and recreational areas, like Anna Jean Cummings Park and Blue Ball Park, which provide opportunities for picnics, playground fun, and outdoor sports.
8. Corralitos
Nestled in the foothills of the Santa Cruz Mountains, Corralitos is a small, rural community known for its beautiful scenery, wineries, and agriculture. Families seeking a more peaceful and natural setting will find Corralitos an attractive option. The neighborhood is home to several family-owned wineries and the popular Corralitos Market and Sausage Company. Outdoor enthusiasts will enjoy exploring the nearby Corralitos Creek, which offers hiking trails and picturesque views. Although Corralitos is a more rural community, it still provides access to good schools, such as Bradley Elementary School and Aptos High School, which serve the area.
9. San Lorenzo Valley
San Lorenzo Valley, situated in the heart of the Santa Cruz Mountains, is a collection of small communities, including Felton, Ben Lomond, and Boulder Creek. These towns are known for their close-knit communities, scenic beauty, and access to outdoor activities. San Lorenzo Valley is an excellent choice for families who enjoy a more laid-back, rural lifestyle while still being within a short drive from Santa Cruz and Silicon Valley. The area is served by the San Lorenzo Valley Unified School District, which includes highly-rated schools like San Lorenzo Valley High School and San Lorenzo Valley Elementary School. Families will appreciate the numerous parks and recreational areas in the region, such as Henry Cowell Redwoods State Park, Big Basin Redwoods State Park, and Quail Hollow Ranch County Park. These parks offer a range of activities, from hiking and mountain biking to picnicking and wildlife observation.
10. Watsonville
Watsonville is a vibrant agricultural community located in the southern part of Santa Cruz County, known for its rich cultural heritage and beautiful natural surroundings. This diverse city offers a more affordable cost of living compared to other areas in Santa Cruz County, making it an attractive option for families.
Watsonville boasts a variety of quality schools within the Pajaro Valley Unified School District. The city is also home to several parks and recreational areas such as the Watsonville Slough Trail System and also provides easy access to nearby beaches, such as Manresa State Beach and Sunset State Beach.
Santa Cruz County offers a diverse array of family-friendly neighborhoods to suit various lifestyles and preferences. From coastal living in Capitola and Aptos to more rural settings in Corralitos and San Lorenzo Valley, there are plenty of options for families seeking a new home in this beautiful region. When choosing a neighborhood, consider factors such as schools, outdoor recreation opportunities, commute times, and community atmosphere to ensure you find the perfect fit for your family.